Discovery Channel: 'Deadliest Catch' captain dies
Posted on Feb 10 by Tatiana under Phil-Harris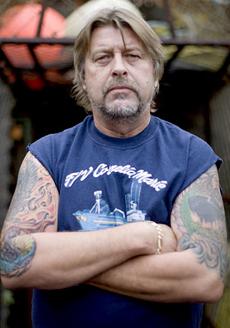 ANCHORAGE, Alaska (AP) — Phil Harris, the fishing boat captain whose adventures off the Alaska coast were captured on the television show "Deadliest Catch", has died, the Discovery Channel said Tuesday night. He was 53.
Harris suffered what his family described as a massive stroke on Jan. 29 while the fishing vessel he captained, Cornelia Marie, was in port at St. Paul Island, Alaska. The fisherman was flown to Anchorage for surgery.
The reality show, which has filmed five seasons, has been one of the Discovery Channel's most popular and depicts the crab fishing industry in the dangerous waters off Alaska.
"It is with great sadness that we say goodbye to our dad – Captain Phil Harris. Dad has always been a fighter and continued to be until the end," sons Josh and Jake Harris said in a statement released by the network. "For us and the crew, he was someone who never backed down."
In a statement, Discovery Channel senior vice president Elizabeth Hillman says, "Phil was a devoted father and loyal friend to all who knew him."
"We will miss his straightforward honesty, wicked sense of humor and enormous heart," she said.
In an e-mail to The Associated Press, she said no additional information was immediately available Tuesday night.
Harris had seemed to be improving, and in a posting last Saturday on the ship's Web site, he was described as "talking to friends and family today; showing his greatest progress" since the stroke.
His sons wrote in a Feb. 3 posting that "No one ever said Captain Phil Harris wasn't tough. Today, dad showed some good signs of improvement, squeezing our hands and even summoning his trademark Captain's bluntness … We are encouraged but still very cautious."
According to the ship's Web site, Harris started working on fishing boats at age 7 and started work 10 years later on a crab boat. When Harris turned 21, he ran a fishing vessel out of Seattle, making him one of the youngest to captain a vessel in the Bering Sea.
When Harris suffered the stroke, the family said a friend, Derek Ray, had flown to St. Paul to take over the role of relief skipper for the rest of the opilio crab season.
Harris' fishing vessel was based in Seattle.

Commenting is closed for this article.
<--- Previous article
Steve Phillips First Comment and Reaction After DONE With Sex Rehab (VIDEO)
Next article --->
Deadliest Catch Captain Phil Harris Dies at 53