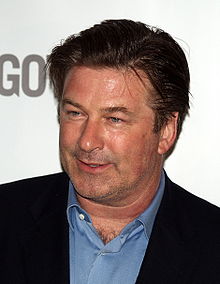 Alexander Rae "Alec" Baldwin III (born April 3, 1958) is an American film and television actor. An actor comfortable in both lead and supporting roles, he has appeared in numerous Hollywood films, from Beetlejuice and The Hunt for Red October in the 1980s to the Martin Scorsese films The Aviator and The Departed in the 2000s.
He was nominated for the Academy Award, Golden Globe, and Screen Actors Guild Award for his performance in the 2003 film, The Cooler. Currently, he appears as Jack Donaghy on the NBC sitcom 30 Rock, a role for which he has won two Emmy Awards, three Golden Globe Awards, and four Screen Actors Guild Awards.
Baldwin has hosted Saturday Night Live 14 times and is the oldest of the Baldwin brothers, a family which has been active in film and television for the last three decades.
Baldwin was born in Amityville, New York,[1] the son of Carolyn Newcomb (n?e Martineau) and Alexander Rae Baldwin, Jr., a high school history/social studies teacher and football coach. Baldwin was raised in a Catholic family of Irish, English and French descent. He attended Alfred G. Berner High School in Massapequa, Long Island, and played football there under Coach Bob Reifsnyder, who is in the College Football Hall of Fame. Baldwin worked as a busboy at the famous New York City disco Studio 54. He attended George Washington University from 1976 to 1979. He then transferred to New York University to study acting at the Lee Strasberg Theatre Institute under Elaine Aiken and Geoffrey Horne. He returned to NYU in 1994 and graduated with a BFA that year.
The other Baldwin brothers, Daniel (Homicide: Life on the Street), William (Backdraft), and Stephen (The Usual Suspects) all followed him into the acting profession.
Baldwin made his Broadway debut in 1986, in a revival of Joe Orton's Loot alongside theatre veterans Zoe Wanamaker, ?eljko Ivanek, Joseph Maher and Charles Keating. This production closed after three months.
His other Broadway credits include Caryl Churchill's Serious Money with Kate Nelligan and a highly acclaimed revival of Tennessee Williams' A Streetcar Named Desire; his performance as Stanley Kowalski garnered him a Tony Award nomination for Best Actor. This production also featured Jessica Lange, Amy Madigan, Timothy Carhart, James Gandolfini, and Aida Turturro. Baldwin would receive an Emmy nomination for the television version of the production, in which both he and Lange reprise their roles. That version featured John Goodman and Diane Lane.
In 1998, Baldwin played the title role in Macbeth at the Public theater alongside Angela Bassett and Liev Schreiber. The production was directed by George C. Wolfe. In 2004, Baldwin starred in a revival of Twentieth Century with Anne Heche.
On June 9, 2005, he appeared in a concert version of the Rogers and Hammerstein musical South Pacific at Carnegie Hall. He starred as Luther Billis, alongside Reba McEntire as Nellie and Brian Stokes Mitchell as Emile. The production was taped and telecast by PBS on April 26, 2006. In 2006, Baldwin made theater news in Roundabout Theatre Company's Off-Broadway revival of Joe Orton's Entertaining Mr. Sloane.
Baldwin made his theatrical film debut with a minor role in the 1988 film She's Having a Baby. Also in 1988, he appeared in Beetlejuice and Working Girl. Fresh from those hits, his film career was firmly established with his role as Jack Ryan in The Hunt for Red October (1990).
Baldwin met his future wife Kim Basinger when they played lovers in the 1991 film The Marrying Man. He appeared with Basinger again in The Getaway, a 1994 remake of the 1972 Steve McQueen film of the same name.
In a brief but memorable role, Baldwin played a ferocious sales executive in 1992's Glengarry Glen Ross, a part added to the film version of David Mamet's Pulitzer Prize-winning stage play. He then starred in 1992's Prelude to a Kiss with Meg Ryan, which was based on the Broadway play. The film received a lukewarm reception by critics and grossed only $22 million worldwide.
In 1994, Baldwin made a foray into pulp fiction-based movies with the role of the title character in The Shadow. The film made $48 million but was considered a commercial failure due to the high expectations that it would be a blockbuster. Baldwin played in several thrillers including The Edge (with Anthony Hopkins), The Juror (with Demi Moore) and Heaven's Prisoners (with Teri Hatcher).
Baldwin then shifted towards character acting, including his Academy Award-nominated performance in 2003's gambling drama The Cooler, and in the Martin Scorsese films The Aviator and The Departed.
Baldwin is also a voice actor, working in the films The Royal Tenenbaums, Final Fantasy: The Spirits Within and Thomas the Tank Engine and Friends.
In 2001, Baldwin directed and starred in an all-star version of The Devil and Daniel Webster with Anthony Hopkins, Jennifer Love Hewitt and Dan Aykroyd. The then-unreleased film became an asset in a federal bank fraud trial when investor Jed Barron was convicted of bank fraud while the movie was in production. The film eventually was acquired by The Yari Group without Baldwin's involvement. In 2007, the Yari Film Group announced it would give the film, now titled Shortcut to Happiness a theatrical release in the spring and cable film network Starz! announced they had acquired pay TV rights for the film. Shortcut to Happiness was finally released in 2008. Baldwin, displeased with the way the film had been cut in post-production, demanded that his directorial credit be changed to the pseudonym "Harry Kirkpatrick".
In 2006, he starred in the film Mini's First Time, alongside Nikki Reed and Luke Wilson. Baldwin performed opposite Sarah Michelle Gellar in the 2007 romantic comedy, Suburban Girl.
Baldwin's first major role was as Billy Aldrich on the daytime soap opera The Doctors from 1980 to 1982. In the fall of 1983 he starred in the short lived television series Cutter to Houston. He then shot to stardom co-starring in the television series Knots Landing from 1984 to 1986.
In 1986, Baldwin starred in Dress Gray, a four-hour made-for-television miniseries, as an honest cadet sergeant who tries to solve the mystery of a murdered classmate. The film was adapted by Gore Vidal from the novel by Lucian Truscott.
Between the years of 1998 and 2002, Baldwin was the U.S. narrator for the children's show Thomas and Friends, narrating all 52 episodes of seasons 5 and 6.
Baldwin appeared in a celebrity edition of Who Wants To Be A Millionaire in November 2000, competing against Jon Stewart, Charlie Sheen, Vivica A. Fox and Norm Macdonald. He won $250,000 for PAWS, and used Kim Basinger as one of his "phone-a-friend" partners.
In 2002, Baldwin appeared on two episodes of Friends as Phoebe Buffay's overly enthusiastic love interest, Parker. In the episode entitled "The One in Massapequa," Parker, seemingly clueless and curious about its history, comments that Massapequa sounds like a "magical place". In reality, Baldwin was raised in Massapequa and went to high school there. Baldwin appeared in a number of episodes in season 7 and 8 of Will & Grace. He played Malcolm – a 'top secret agent' and the lover of Karen Walker (Megan Mullally). He also appeared in the first live episode of the series.
Baldwin stars in the Emmy Award-winning NBC sitcom 30 Rock, which first aired in October 2006. Baldwin had met series creator Tina Fey and one of his co-stars, Tracy Morgan, during several tapings of Saturday Night Live. He received numerous honors for his work as TV exec Jack Donaghy, including two Emmy Awards, two Golden Globe awards and two Screen Actors Guild Awards. He was again nominated for the Emmy for Best Actor in a Television Comedy or Musical in 2007, for the role but lost to Ricky Gervais.[10] He received his second Emmy nomination for his role as Jack Donaghy in 2008, marking his seventh Primetime Emmy nomination and went on to win the award as Best Actor in a comedy series. He won again in 2009. Since season 3, Baldwin has been credited as producer of the show.
Baldwin joined TCM's The Essentials Robert Osborne as co-host beginning in March 2009.
Baldwin is slated to co-host the 82nd Academy Awards with Steve Martin on March 7, 2010.
Baldwin has hosted Saturday Night Live 14 times as of February 2009, including a 1994 episode with Kim Basinger.
Baldwin wrote an episode of Law & Order entitled "Tabloid", which aired in 1998. He played the role of Dr. Barrett Moore, a retired plastic surgeon, in the series Nip/Tuck.
From Wikipedia, the free encyclopedia

Commenting is closed for this article.
<--- Previous article
Deadliest Catch Season 5 - Keith Takes a Beating
Next article --->
Alec Baldwin SAG Awards Best Performance by a Male Actor in a Comedy Series